The video discusses the considerations to keep in mind when choosing a toy for anal play. Here are the main points:
Tapered Design: Opt for a well-tapered toy that gradually increases in size, allowing the anus to stretch slowly. This is particularly beneficial if your anal muscles are tight.
Base Size: Choose a toy with a large base to prevent it from getting lodged inside the body, potentially requiring a trip to the emergency room.
Material: Platinum-grade silicon is recommended due to its low likelihood of causing allergic reactions. Rubber toys can be problematic for those with allergies.
Quality Check: Avoid toys that feel "burny" against the skin or have a strong chemical smell, as they may cause chemical burns. If in doubt, you can use a condom over the toy for added safety.
Lubricant Compatibility: Silicon toys are versatile and can be used with different types of lube, including water-based, oil-based, and quality silicon-based lubricants.
Avoid Sharp Edges: Ensure the toy does not have sharp edges that could cause cuts or irritation.
Brands: Square Peg is recommended for its well-tested range of anal toys suitable for explorers of all experience levels.
Consultation: Dr George is available for 1:1 consultations, especially if you're in Melbourne or Sydney. Dr George also works with BJ at Eagle Leather who can also provide advice.
Overall, the key takeaway is to opt for tapered, quality silicon toys with a large base and to be mindful of the material and design to ensure safe and comfortable play.
With all anal toy's it's important to choose toys that will not cause damage to the delicate lining of the anal canal. For this reason I highly recommend choosing a butt plug that has very smooth edges to avoid any scratches to the anus.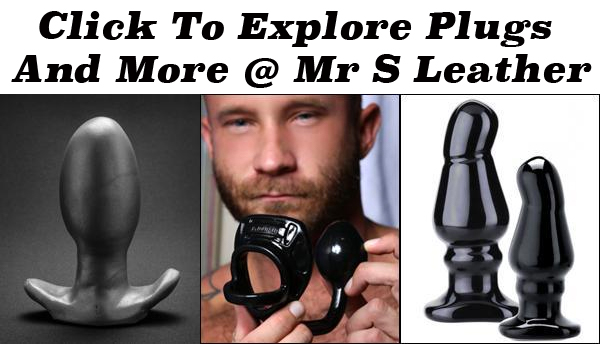 Butt plugs come in many different materials including metal, vinyl, latex and silicone.
There are some anal toys made of glass however I don't recommend them due to the potential issues if the materials were to be chipped or damaged.
If you are allergic to latex or rubber it is best to choose a butt plug made of vinyl or silicone.
When stating to explore with anal play I recommend choosing a butt plug that is soft yet firm. This will enable your body to become gradually accustomed to the sensations of insertion.  It's best to have a variety of sizes so you can gently increase in girth. I recommend choosing anal toys with a large base to help prevent the toy falling inside the body and preventing an embarrassing visit to the hospital.
Use of plenty of lube helps make insertion much easier. Different materials require different lubricants please check the following guide to choosing the ideal lubricant for butt plugs.
Take it slow and experience the different sensations, allowing your body to relax as you explore the different feelings.
As you become more experienced with anal play you will be able to try different sizes, shapes and textures.